Introduction
In an effort to constantly improve the quality of services to serve our Customers better and better, from November 2016, Rose Garden Residences officially launched Rose Garden Residences Membership Program and issued VIP Card for all customers who are using products and services of Rose Garden Residences.
Prominent interests of Rose Garden Residences VIP Card are as follows:
Quick to register, easy to use
Attractive point accumulation rate
Able to use points for direct payment right after 24 hours
Easy to redeem points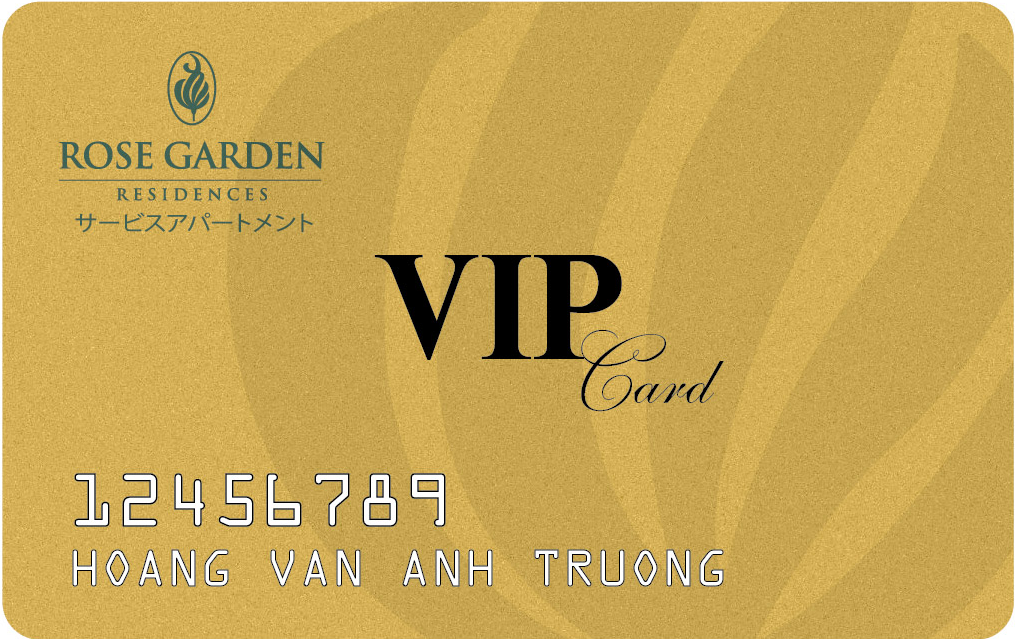 Condition to open membership card
All legal individual customers aged 18 years and older with a valid ID (Identity card – Vietnamese/Passport or ID card – foreigners), not confidential or restricted capacity for civil acts.
The customers who stay in Rose Garden Residences at least 1 time
Benefits for members
Points are accumulated immediately when presenting Rose Garden VIP Card.
The accumulated points in the card are valid for spending only after 24hours with the exchange rate: 1000 point = 1,000,000VND. These points can only redemm into product/service of Rose Garden Residences.
The Customer can decide by himself/herself how many accumulated points to be spent
Privileges of customers:
Privilege of early check-in, late check-out and room upgrading in the allowable condition
Lots of preeminent privileges and incentives reserved for each year only shall be introduced directly to the Customers
Earning point
When you sign new contract or purchase any product/service of Rose Garden Residences, present your VIP card to receptionists
The staff will inform you your available points. You can redeem these points for the next purchase after 24 hours
Redeem points
When you want to use the points in your VIP card to purchase any product or service of Rose Garden Residences, please inform our receptionists and present your card.
The staff will inform you your avalable points left after your purchase
For all product/service of Rose Garden Residences, the exchange point rates are shown in the table:
No.
Product/Service
Exchange point rate
Note
1
Rose Garden bracelet/ hat
1,000
2
Rose Garden umbrella
5,000
3
Rose Garden Set
10,000
Rose Garden hat (1), umbrella (1) and bracelet (1)
4
Airport pick-up
20,000
Please inform us at least 3 working days before arriving
5
A bottle of water lavie (19 litre)
40,000
6
1 breakfast ticket
50,000
7
1 movie ticket
60,000
8
Supermarket voucher (100,000VND)
100,000
Please inform us at least 7 working days before the day you want to use the voucher
9
Dry laundry (1 time)
150,000
10
2 Supermarket vouchers (500,000VND)
300,000
11
1 Free night stay in Rose Garden Residences
350,000
Please inform us at least 7 working days before the day you want to stay
12
Travel tour
VVIP

Special program for VVIP customers who stay at Rose Garden Residences at least 5 years.

*For more information please contact to Rose Garden Residences Office